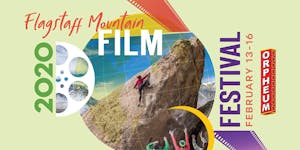 Presented by Flagstaff Mountain Film Festival
18th Annual Film Festival: Friday
$5.00 - $45.00
Sales Ended
On Eventbrite
Flagstaff Mountain Film Festival: Friday Sessions
Friday, 4:00pm - 6:00pm
Session 2: Human Ingenuity
Human Powered
Director: Matt Cecill | 24 mins, Canada, 2019
Every year, trail runners from around the world line up to test themselves at the grueling Finlayson Arm 100km on Vancouver Island. Human Powered looks beyond the finish line, into the community of dedicated volunteers who bring this event to life.
(people) of water
Director: Forest Woodward 20 mins, USA, 2019
For thousands of years, outrigger canoes have connected diverse cultures and people around the world. People of water follows the story of Rob Prechtl and US Men's Raft team, as they embark on a journey to learn the craft of outrigger paddling.
Voices on the Road
Directors: Eilidh Munro & Bethan John | 24 mins, Peru, 2019
Deep in the remote Peruvian Amazon a road is quietly destroying a protected rainforest, causing conflict and fear. But for some indigenous communities, desperate for change, it is also bringing hope.
Extremophiles
Director: Leah Shore 4 mins, USA, 2018
EXTREMOPHILES [ĭk-strē′məfīl′s] noun.- A portrait film about the pollution in Brooklyn NY and beyond. Made thanks to the Imagine Science Film Grant/Sandbox Fund.
Out On A Limb
Director: Jordan Manley 21 mins, USA, 2019
Kai Lin's story explores his unlikely alliance with Arc'teryx athlete, Craig DeMartino, from which the pair serve up a holy grail for adaptive rock climbers – a badass prosthetic foot, that won't just level the playing field, but will dish up, if not superpowers, then a real sense of empowerment.
Friday, 8:00pm - 10:00pm
Session 3: "Love It"
Mi Mamá
In Person: James Q Martin | Director: James Q Martin | 5 mins, USA, 2019
This is an inter-generational story of Nadia Mercado and her mother Clariza Valdez and how their experiences of the outdoors intertwine. Clariza's story is one of migration, survival, resilience, and sacrifice, so that her children could follow their dreams.
JULIE
Director: Stefanie Brockhaus 15 mins, France / Norway / Réunion, 2018
Fusing free diving and dance, Julie Gautier leads us into a new territory of ocean life. JULIE is Gautier's powerful story of finding her creative voice beneath the surface.
Sonora Rising
In Person: Sinjin Eberle Director: Sinjin Eberle 11 mins, USA, 2019
Water and wheat — foundations of life for millennia. This film explores the thoughts of three visionaries in Tucson who are creating and growing a circular economy of water, forging a sustainable future for a city that could have gone in another direction.
R.A.W. Tuba
In Person: David Larson Directors: David Larson & Darren Durlach 28 mins, USA, 2019
This film is about a Baltimore child who experienced homelessness, sleeping wherever he could. Despite enormous challenges he went on to become a worldclass symphony musician and professor from one of the most prestigious music programs in the US.
Camel Finds Water
Director: Ian Durkin 8 mins, USA / Canada, 2019
Trevor found the hull of an abandoned fishing boat in a field. He brought it home and built it back to a sea-worthy state over the course of a summer. Then, he took it on its maiden voyage to British Columbia in search of waves.
Surf Cuba
Director: Jacob Oster 15 mins, Cuba, 2017
This film colorfully documents the Cuban surf community's struggles and how they overcome them in order to pursue their passion–Cubans don't think about the problem, they think about the solution.
Sweetheart Dancers
Director: Ben-Alex Dupris 13 mins, USA, 2019
A story about Sean and Adrian, a Two-Spirit couple determined to rewrite the rules of Native American culture through their participation in the "Sweetheart Dance." This celebratory contest is held at powwows across the country, primarily for men and women couples, until now.