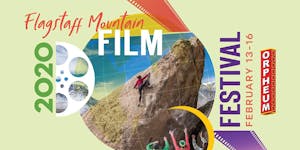 Presented by Flagstaff Mountain Film Festival
18th Annual Film Festival: Saturday
$5.00 - $45.00
Sales Ended
On Eventbrite
Flagstaff Mountain Film Festival: Saturday Sessions
Saturday, 10:00am - 12:00pm
Session 4: Family Film Program
This program is about combining inspirational films for all the family with the art of play. Within a safe and inclusive space, we take the whole family on a journey around the world through a series of uplifting stories and animations. Tynkertopia will help families concoct wonderful kaleidoscopic creations, inspiring curiosity, and letting imaginations soar. Lowell Observatory will be here to take the whole family on a journey through space and celebrate 'I love Pluto.' This is a series of events going on through February to celebrate the discovery of our most beloved dwarf planet.
Revel Lucien and Jewel will be here for Drag Queen Story Time in a unique space created in the theater. In spaces like this, kids are able to see people who defy rigid gender restrictions and imagine a world where people can present as they wish, where dress up is real. Tickets $15 for the whole family (only available at the box office on Saturday Feb 15th)
Kai Jones
Director: Todd Jones | 5 mins, USA, 2018
Eleven year old Kai Jones isn't old enough to go to the movies alone or order a sandwich at the pub, but in the mountains age doesn't matter. He is following in his family's ski tracks… right into backflips and tricks off of cliffs.
Danny Daycare
Director: Stu Thomson | 4 min, Scotland, 2019
So long coloring books and cartoons. Goodbye stuffed animals and nap time. Danny MacAskill is your new favorite babysitter ever.
Blue
In Person: Alisa May Geiser | Director: Aly Nicklas | 4 mins, USA, 2018
Blue is a fantastical journey into a young girl's imagination. We dive into her fantasy world and explore the mountains, glaciers and rivers of Valdez, Alaska by fat bike with a crew of boundary-pushing female athletes.
Animation Station
In Person: Paul Perreault | Director: Paul Perreault | 5 mins, USA, 2019
Flagstaff Hullabaloo festival hosts a stop-motion animation workshop where kids of all ages can create their own short film. With magnetized posable characters and a simple point and shoot camera, ring-leader Paul Perreault sets the stage for kooky and creative adventures.
Patchwork Clam
Director: Angela Steffen | 4 mins, Germany, 2019
Patchwork Clam has a problem: she can´t play because she´s way too shy! Will the Patchwork Pals find a way to make her come out of her shell?
Goldie
Director: Emily Brundige | 5 mins, USA, 2019
A giant girl feels out of scale in her colorful little town, only to realize she takes up just the right amount of space.
The Mystery of the Disappearing Megalodon
Directors: Piper and Griffin Roberts, elementary students from Sarasota, Florida
6 mins, USA, 2019
The film follows the students on their hunt for answers about what happened to the extinct shark known as the megalodon. Finalists in the 2019 Youth Making Ripples Youth Film Festival.
Saturday, 3:00pm - 5:30pm
Session 5: Rad Women Rock
Blue
In Person: Alisa May Geiser | Director: Aly Nicklas | 4 mins, USA, 2018
Blue is a fantastical journey into a young girl's imagination. We dive into her fantasy world and explore the mountains, glaciers and rivers of Valdez, Alaska by fat bike with a crew of boundary-pushing female athletes.
Originate
Director: Cameron Sylvester | 15 mins, Canada, 2019
In sport, success is often defined by measuring yourself against the competition. With little change to the landscape of Alaska since her first trip 10 years ago, big mountain skier Michelle Parker returns to Haines to test her skillset in the mountains.
Mi Mamá
In Person: James Q Martin | Director: James Q Martin | 5 mins, USA, 2019
This is an inter-generational story of Nadia Mercado and her mother Clariza Valdez and how their experiences of the outdoors intertwine. Clariza's story is one of migration, survival, resilience, and sacrifice, so that her children could follow their dreams.
The Litas
Director: William DeSena | 7 mins, USA, 2018
Meet Gevin Fax, the oldest member of the women motorcycle collective, The Litas. She started riding dirt bikes at the age of twelve, which distanced her even further from the other kids. It was her love of riding that gifted her peace of mind and was her escape from all the other noise.
Indigenous Women Hike
Director: Matika Wilbur | 3 mins, USA, 2018
The Nüümü Poyo hike aims to regenerate the relationship between the land and its original people, while consequently decolonizing the history of Indigenous territories.This is not simply a reclamation, it is an act of continuity in our resilient relationship and responsibility to our land and people.
SKIN
Director: Artur Zaremba | 9 mins, United Kingdom, 2019
This film explores the correlation between skin and identity through intimate conversations with young people who have experienced skin bias, whether because of their colour, scars, tattoos or past medical conditions. How do we perceive ourselves and what's beautiful in the era of seeing reality only through a filter?
Speak to Me Softly
Director: Henna Taylor | 6 mins, USA, 2019
Take an honest and intimate peek into the headspace of a climber having a not-so-sendy day.
Naretoi (Women Empowering Women)
In Person: Katie Sugarman | Directors: Kelsey Doyle & Katie Sugarman
27 mins, Kenya / USA, 2019
Naretoi, which means "women helping women" in Maasai, is a documentary film that follows a group of Maasai and American women on a self supported expedition to the summit of Mt. Kenya.
Graffitis
Director: Eoin O'Callaghan 4 mins, UK, 2018
Graffitis' is a collaboration by Elma Orkestra & Ryan Vail with Mexican poet Virginia Leyva. It is taken from the award winning album 'BORDERS'. The music video was filmed and directed by Eoin O'Callaghan (Elma Orkestra) in Guadalajara, Mexico during their recent tour.
TEVA Faces of the Canyon | Angel Tadytin
In Person: Angel Tadytin | Director: Andrew Schoneberger | 4 mins, USA, 2019
Growing up with the Grand Canyon as her backyard, Angel Tadytin, an ambassador for Women Who Hike, spreads her love of red sandstone and Navajo culture through guided hikes in and around the Grand Canyon, sharing what this magical place means to her.
JULIE
Director: Stefanie Brockhaus | 15 mins, France / Norway / Réunion, 2018
Fusing free diving and dance, Julie Gautier leads us into a new territory of ocean life. JULIE is Gautier's powerful story of finding her creative voice beneath the surface.
Saturday, 8:00pm - 10:00pm
Session 6: The River and The Wall
The Imaginary Line
Director: Kylor Melton | 11 mins, USA, 2019
In Febuary 2019, the United States government declared a 'national state of emergency' on the southern border... in an act of solidarity, a team from Mexico and a team from the U.S.A assembled with the sole purpose of establishing a slackline that crossed the border between them.
Dear Johnny Reb
In Person: Philip Scarborough Director: Philip Scarborough 8 mins, USA, 2019
This film is a call-to-action from increasing numbers of Mississippians. In a heartfelt appeal to the manifestations of his Confederate ancestors' racism, filmmaker Scarborough explains why it's time for the removal of confederate monuments in Mississippi.
The River and the Wall
Director: Ben Masters 110 mins, USA, 2019
Five friends venture into the unknown wilds of the Texas borderlands to document the Rio Grande before a wall is built. As they leave the wilderness behind, they enter uncharted emotional waters.