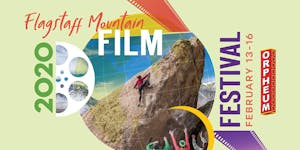 Presented by Flagstaff Mountain Film Festival
18th Annual Film Festival: Sunday
$5.00 - $45.00
Sales Ended
On Eventbrite
Flagstaff Mountain Film Festival: Sunday Sessions
Sunday, 3:00pm - 5:30pm
Session 7: Extraordinary Adventures
The Man of the Trees
Director: Andrea Trivero | 19 mins, Burkina Faso, 2018
Daniel grew up without the use of his legs. His disability, which for many in Africa means a marked destiny, is for Daniel an opportunity. Every day, he sows and cultivates many vegetables and plants, including planting a million trees in the last 50 years.
The Imaginary Line
Director: Kylor Melton | 11 mins, USA, 2019
In February 2019, the United States government declared a 'national state of emergency' on the southern border... in an act of solidarity, a team from Mexico and a team from the U.S.A assembled with the sole purpose of establishing a slackline that crossed the border between them.
The River's Call
Director: Hugo Clouzeau | 8 mins, France, 2019
Leaving the comforts of society behind in search of adventure, seven kayakers foray through the deep canyons and challenging whitewater of the Rio Apurimac, the farthest source of the Amazon in the heart of the Andes.
Ironstone
Director: Sam Thompson | 15 mins, New Zealand, 2019
For six years a group of New Zealand cavers tried to find a way through the remote Ironstone cave system in the remote wilderness of New Zealand's South Island.
The Legend of Rafael
Director: Jesse Levine | 7 mins, USA, 2019
With just $500 to his name, Rafael spearheads a revolution to help the underprivileged members of his new neighborhood the best way he knows how—repairing their bicycles.
Wild Toddler Chronicles: Legacy
Director: Brian Lewis | 10 mins, USA, 2018
Armed with an endless supply of snacks, extra underwear and a pile of old photographs, two parents set out to retrace the route of an old adventure, this time with a two-year-old in tow, hoping to inspire the next generation to care about wild places.
Broken
Director: Simon Perkins | 7 mins, USA, 2019
The story of Jon Wilson and how night skiing pushed him to explore, accept, and embrace the idea of "brokenness," allowing him to find a more sincere, genuine and honest connection with life.
8000+
Directors: Antoine Girard & Christian Schmidt | 22 mins, Germany / France, 2018
In July 2016, the paraglider Antoine Girard set off alone on a three-week hike-and-fly tour to explore the Karakorum mountains in Pakistan. Will he set a new altitude record in paragliding.
Between Wind and Water
Director: John Kelly | 17 mins, Canada, 2019
After a life-changing event, a former British Paratrooper finds peace in a small Canadian mountain town. Experience the life of a BASE Jumper in Squamish, B.C. and get a first-hand look at what it takes to jump off a mountain.
Camel Finds Water
Director: Ian Durkin | 8 mins, USA / Canada, 2019
Trevor found the hull of an abandoned fishing boat in a field. He brought it home and built it back to a sea-worthy state over the course of a summer. Then, he took it on its maiden voyage to British Columbia in search of waves.
Sunday, 7:00pm - 9:30pm
Session 8: "Ed Shred" Local's Night
Does Flagstaff, Even Recycle?
In Person: James Q Martin | Director: James Q Martin | Producer: Azulita.org | 3 mins, USA, 2019
This film follows Flagstaff local, Dapper Dre as he explores the realities of what you can and cannot recycle in the city. Dre brings levity and education to the serious issues we face as a community and encourages people to use less.
TEVA Faces of the Canyon | Angel Tadytin
In Person: Angel Tadytin | Director: Andrew Schoneberger | 4 mins, USA, 2019
Growing up with the Grand Canyon as her backyard, Angel Tadytin, an ambassador for Women Who Hike, spreads her love of red sandstone and Navajo culture through guided hikes in and around the Grand Canyon, sharing what this magical place means to her.
Ní'tsii Níł tsá Yaahaalné - Hair Tells the Weather
In Person: Cherylee Francis | Director: Cherylee Francis | 3 mins, USA, 2019
In 2017, the National Weather Service learned the importance of the Navajo Tsiiyéél in relationship to weather. In response for increased mutual understanding, Navajo filmmaker Cherylee Francis and actors partner with the NWS to explain this important connection.
Fast Horse
Director: Alexandra Lazarowich | 14 mins, Canada, 2018
Fast Horse follows the return of Blackfoot bareback horseracing tradition in a new form: the Indian Relay. Siksika Allison Red Crow struggles to build a team with secondhand horses and a new jockey, Cody Big Tobacco, to take on the best riders in the Blackfoot Confederacy at the Calgary Stampede.
Native Drunk
In Person: Deidra Peaches & Cecil Patrick Tso | Directors: Deidra Peaches & Cecil Patrick Tso | 5 mins, USA, 2019
"Native Drunk" is a heavy, narrative focused on alcoholism, and it's slow suicide. The concept, and vision was envisioned before the actual song was completed.
Frosty
In Person: James Q Martin | Director: James Q Martin | 16 mins, USA, 2019
On the surface, Anna Frost looks like a competition-driven elite ultra runner having won some of the hardest races in her sport. One would probably think the desire to win is what drives Anna to trail run. Yet to her, trail running is a gateway to connection, to nature, to community and ultimately, connection to oneself.
Viva La Verde
In Person: Hugh Denno | Director: Hugh Denno | 16 mins, USA, 2019
Viva La Verde! unveils the value of and the threats to the upper Verde River, a littleknown and under-appreciated river supporting some of the best remaining riparian habitat in the Southwest.
She Breathes: Wind Cave Search and Rescue
In Person: Rachel Cox & Ivey Camille Manybeads Tso Directors: Rachel Cox & Ivey Camille Manybeads Tso 8 mins, USA, 2019
Complete silence and darkness can be a foreign and terrifying sensation. Now imagine being 18 years old and lost inside a cave for 36 hours. This is a success story of the longest rescue in wind cave history and the life changing impacts on its participants.
The Mystery of Now
In Person: Douglas Miles | Director: Audrey Buchanan |16 mins, USA, 2019
In the short film, "The Mystery of Now," artist and Apache Skateboards founder, Douglas Miles shares socio-political context around the history that lead to life on the San Carlos Apache reservation, and the personal history of how and why he started a skateboard brand and team of local youth leaders.
Dear Mother Nature
Director: Tim Kressin | 30 mins, USA, 2019
Wyn Wiley (he/him), aka Pattie Gonia (she/her), has made waves over the past year as an environmental advocate drag queen. We follow Wyn as he travels to Hawaii to see firsthand the impacts of careless consumption and plastics on Mother "Natch."
TEVA Faces of the Canyon | Cricket
In Person: Cricket| Director: Andrew Schoneberger | 4 mins, USA, 2019
Since the age of 7, Amy "Cricket" Jane has been an explorer of the Grand Canyon. Now as a boat builder and boatman, she honors the heritage of the craft and carries the stories of the places left behind.
Native Canyon
In Person: Logan Bockrath | Director: Logan Bockrath | 7 mins, USA, 2019
For the Hopi people, Grand Canyon is a sacred and spiritual place that is the genesis of their culture. To venture into the Canyon is a spiritual journey to Öng'tuvgavi. This film follows a group of Hopi youth as they explore the Canyon and their heritage.
To Wake Up the Nakota Language
Director: Louise BigEagle | 7 mins, Canada, 2017
"When you don't know your language or your culture, you don't know who you are," says 69-year-old Armand McArthur, one of the last fluent Nakota speakers in Pheasant Rump First Nation, Treaty 4 territory, in southern Saskatchewan. Armand is committed to revitalizing his language and culture for future generations.
Sacred Strides
Directors: Anna Callaghan, Marie Sullivan & Forest Woodward | 13 mins, USA, 2018
Bears Ears National Monument is one of the most talkedabout public lands under threat, though the dialogue often glosses over how sacred it is to many Native Americans. In March 2018, a group of tribes put their differences aside to run 800 miles together to Bears Ears– sending a message of unity.
"Shine" - Sihasin
Director: Jake Hoyungowa | 4 mins, Navajo Nation, 2019
Sihasin's music Video "Shine" features Jones Benally, world renowned Hoop Dancer, dancing duo with Clayson Benally and sister Jeneda Benally shining with her bass on the red rocks of the painted desert in Leupp Arizona.