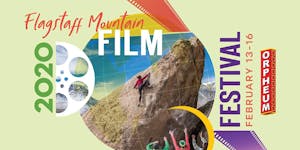 Presented by Flagstaff Mountain Film Festival
18th Annual Film Festival: Thursday
$5.00 - $45.00
Sales Ended
On Eventbrite
Flagstaff Mountain Film Festival - Thursday Sessions
Thursday, 7:00pm - 10:00pm - Session 1: Imagine a Better World
Film Lineup
Does Flagstaff, Even Recycle
In Person: James Q Martin | Director: James Q Martin | Producer: Azulita.org
3 mins, USA, 2019
This film follows Flagstaff local, Dapper Dre as he explores the realities of what you can and cannot recycle in the city. Dre brings levity and education to the serious issues we face as a community and encourages people to use less.
L'eau Est La Vie (Water is Life): From Standing Rock To The Swamp
Director: Sam Vinal | 24 mins, USA, 2019
On the banks of Louisiana, fierce Indigenous women are ready to fight—to stop the corporate blacksnake and preserve their way of life. They are risking everything to protect Mother Earth from the predatory fossil fuel companies that seek to poison it.
The Shepherdess
Director: Katie Falkenberg | 6 mins, USA, 2019
A Navajo shepherdess perseveres in a rapidly vanishing way of life, despite extreme drought on the reservation. "Hardships are just lessons and challenges in life and you just can't dwell on it, you have to live through it," she recounts.
Paradise
Directors: Erik Petersen & Kirk Rasmussen | 20 mins, USA, 2019
An unlikely environmentalist, Bryan Wells, finds himself standing between Yellowstone National Park and an industrial-scale gold mine. The proposed mine sits just above his home, and not only threatens America's most iconic National Park, but his community's way of life.
The Nature Makers
In Person: Scott Saunders | Director: Scott Saunders | 60 mins, USA, 2019
This is a film about the extreme lengths to which professional conservationists now have to go to protect wild species and wild places, thus challenging you to rethink conventional ideas about defending the wild in a world increasingly dominated by humans.