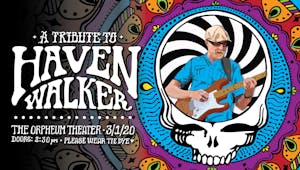 A Tribute memorial for Haven Walker
Dave Logan Band, Flagship of Fools
A Tribute Memorial for Haven Walker
Pina, Bob, Dylan and Mason invite you to join in a celebration of the incredible life of their beloved son and father, Haven Walker.
Scheduled dedications starting at 3:00pm sharp and to be followed with music by the Dave Logan Band and Flagship of Fools.
Limited food will be provided.
Please bring your prayer flags to hang in honor of Haven.