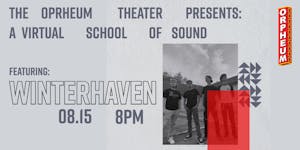 A Virtual School Of Sound Featuring:
Winter Haven, Promise to Myself
$5.00 - $20.00
Sales Ended
The Orpheum Theater presents: A Virtual School of Sound feat. Winter Haven
Welcome back students!
Since you've been gone, a lot has changed at the historic Orpheum Theater in the heart of downtown Flagstaff. We have been closed since mid-March and we will be one of the last able to reopen. To adapt to the changing times we are in, the theater has gone virtual and is regularly hosting online events, concerts, and shows.
The Orpheum Theater presents: A Virtual School of Sound is the first of, what we hope will be, many live streams dedicated to the music you all love. We hope you will join us, enjoy one last hoorah of summer, and help your beloved Orpheum Theater survive the pandemic.
---
With the entire industry at a standstill, our coworkers, employees, and artists are staring down the terrifying prospect of being entirely without employment for an indefinite period of time. Visit nivassoc.org for more information on how you can help save independent music venues across the country.
You can donate now to help #SaveOurStages:
GoFundMe: gofundme.com/OrpheumFlagstaff
Venmo: @OrpheumFlagstaff and venmo.com/orpheumflagstaff
PayPal: orpheumtheater.flagstaff@gmail.com and paypal.me/orpheumflagstaff
---
WinterHaven is a pop-punk band from Flagstaff, Arizona. Founded in October of 2018, they have been regularly playing shows in Arizona, winning a local Battle of The Bands, as well as playing and scheduling a few shows in Southern California. Their first full length album "Apparition" was just released on 2-29-2020. Their first single off the album "Like Monopoly" has been played on local and state wide radio stations.
WinterHaven is a four-piece band, with Jack Hernandez on lead vocals and rhythm guitar, Brendo Goepfrich on lead guitar, Colton Henderson on bass, and Nick Schira has been with them on drums and vocals since August 2019. Their music genre is influenced heavily by Blink-182, Pierce The Veil, and The Offspring, as well as artists like Paramore, Infant Sorrow. They have been frequently described as having a sound reminiscent of the early to mid 90's, and are making a goal to bring music they've fallen in love with back into the mainstream.
---
Promise To Myself is an Alternative Pop-Rock band from Phoenix, AZ. Founded while in high school by Zack Bruge (Rhythm Guitar/Backing Vocals) and Brad Stockton (Lead Guitar) after they met in guitar class. They decided to start a band since they had a common B in their names...they needed a singer, however the one they wanted didn't have a B in his name until he said his middle name was Brandon... welcome to the band Karl Nagy (Lead Vocals/Bass). Now they needed a drummer, in walked Tony Galvan (Drums) and the rest is history.
After playing dates on the Van's Warped Tour and performances at NAMM 2020 brought attention to the band. Recently PTM signed with Perry Music Group and The Orchard (Sony) for the distribution of their music worldwide. Promise to Myself brings a fun and creative energy to the stage that will surely keep you guessing what might happen next!
PTM has partnered with the RnR Memorial Fund, where they take 'RnR' stickers to all of their shows and created a special 't-shirt' where the proceeds go towards the fund to help put kids through hockey camps and buy equipment. They even documented on Instagram taking RnR's 'Jerome the Gnome' on their travels to Austin during SXSW in awareness for the charity. The band believes every fan is a part of their ever-growing family in the crazy thing called life.
In 2018 Promise To Myself released their debut EP "One For The Runaways" which can be heard in all Dutch Bros locations nationwide.
For more information please go to:
www.promisetomyself.com