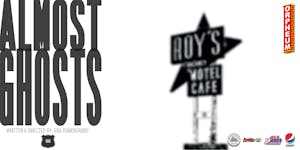 Presented by The Orpheum Theater & Cristina Vivó
Almost Ghosts
"Almost Ghosts" - written and directed by Ana Ramon Rubio
Feature Presentation:
"Almost Ghosts" is a documentary film shot on legendary Route 66 and starring three men who fought to maintain their essence when the highways and interstate roads began to displace the old Mother Road.
Harley Russell, 73, lives only on the tips he receives at his crazy store at Erick (Oklahoma) with his Mediocre Music Maker show. Angel Delgadillo, 91, the last barber of Seligman (Arizona), continues shaving drivers who go out of the interstate highway to visit his town. Lowell Davis, more than 80, is the first inhabitant of Red Oak II (Missouri), a ghost town which he rebuilt through the restoration of its old houses. Three stories of perseverance and overcoming in what was once the road that connected the United States from East to West. Three survivors that managed to save the most well-known route in America.
Short Films, presented by Flagstaff Mountain Film Festival:
"Migrating with the Sandhills Cranes" Director: Bryan Nelson 7 mins, USA, 2018
Naturalists Erv Nichols and Sandra Noll discover love, adventure, and a new life while following the epic migration of the sandhill cranes, from the Southwest U.S. to north of the Arctic Circle in Alaska.
"Dignity at a Monumental Scale" Director: Kelly Whalen 8 mins, USA, 2018
Chip Thomas aka "Jetsonorama," a doctor and long-time resident of Northern Arizona, creates images of everyday Navajo. Life on a monumental scale on abandoned buildings, roadside stands and water towers across the Four Corners region.