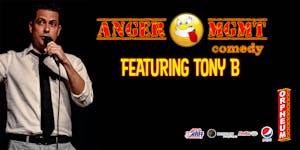 Presented by Jester Comedy and The Orpheum Theater
Tony B.
Anger Management Comedy Show featuring Tony B.
Tony B is a Phoenix based stand up comedian who began his career doing improv in Chicago at The Comedy Shrine. With the aid of his developed improv skills, his transition to stand up comedian was natural and inevitable. Tony uses these skills to keep his act high energy and spontaneous all the while keeping audiences engaged and laughing. He uses his unique experience of growing up in the United States as the son of an Iranian immigrant and an Italian mother to entertain across the United States.
He is a regular feature and house MC at Rick Bronson's House of Comedy and headlines The Comedy Spot (AZ) and The Comic Strip (El Paso). You may recognize Tony from his time at Big Pine Comedy Festival, Bird City, Comedy Festival, San Diego Comedy Festival and The World Series of Comedy (Main Event). He has been featured on showcases across the southwest at venues such as L.A. Comedy Club, The Six, The Hon-dah Casino, and Mazatzal Casino, The Comedy Palace, Tempe Improv and Stand Up Live. Tony just finished recording his debut album with Uproar Comedy titled, "Good Mother", which will be available in the Spring of 2020.