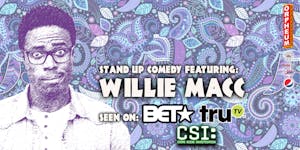 Presented by Jester Comedy
Willie Macc
The Virzi Triplets, Marc Brewer, JC Anderson
Stand-Up Comedy featuring: Willie Macc
Willie Macc has quickly come a long way as a member of young black hollywood since first becoming known to a national television audience as the funny man on BET's extremely popular College Hill Virgin Islands in the Spring of 2007. He has become one of the few Reality TV stars to make the transition from Reality TV to that of a working actor in Hollywood.
The son of Elder Willie McMiller and Minerva McMiller, Willie Macc was born in Seascy, Arkansas and raised in St. Louis, Missouri. He is a 2002 graduate of Hazelwood Central High School, and a 2008 Marketing graduate of American InterContinental University. His father, Elder Willie McMiller, is pastor of Brotherly Love Christian Assembly in Jennings. His mother, Minerva McMiller, is an elementary school teacher in the Ferguson-Florissant district. Both still live in suburban St. Louis with Willie Macc's four brothers - Gabriel (20), John (18), Jarvis (16) and James (8).
In his season of College Hill (Season 4), four students from Los Angeles, and four students from the Virgin Islands lived together while they were taking classes at the University of the Virgin Islands. Filled with the usual fun times, arguments and chaos that a house full of 8 students normal bring, the living situation was pretty much business as usual for him, since he had grown up in a relatively large household. The success of his season of College Hill has allowed him to develop a huge following and name recognition among Urban 14 - 34.
He has been quite busy since his "graduation" from College Hill. Once he relocated back to Los Angeles from the Virgin Islands, he continued his small screen run by appearing on multiple episodes of CSI, as well as Journeyman, 106th and Park and Take the Cake. He has also appeared in several national and regional commercials including Subway, Honda, Taco Bell, Pump Water in New Zealand and most recently, Olive Garden.
Willie Macc's big screen break came with his appearance in the 2008 comedy spoof "Meet the Spartans" where he played a "Yo Mama" joke cracking opponent of the Spartan army. In his second film, "House Arrest", Willie Macc co-stars as the Chris Tucker like side-kick in the "Friday" like direct to home entertainment comedy. Cited as a "modern day Eddie Murphy", Willie Macc continues his destiny to stardom with two additional roles, one being in the action / comedy, "Chicago Pulaski Jones" (written by and starring Kel Mitchel of the "Kenan & Kel" show, and includes a directorial debut by Cedric the Entertainer), and the other being "The Greatest Song" (a wonderful romantic comedy starring Lamman Rucker of Tyler Perry's "Why Did I Get Married" and "Meet the Browns", and national comedian and TV Host, Joe Clair). He can also soon be seen on the small screen in a recurring role in the upcoming television show, "Friends and Lovers: Ski Trip 2".
Both an actor and comedian, Willie Macc made his first professional stand-up comedy debut at the famous BB Kings at Universal Walk in Los Angeles on July 31, 2007. He continues to hone his comic skills by performing stand-up comedy routines in and around Los Angeles for both teen and adult audiences. A lover of sketch comedy in particular, he has developed a sketch comedy TV pilot with Barry Floyd (Tee Tee from BETs The Game) and Jonathan Kite (Oleg from Two Broke Girls)
Willie Macc cites Bernie Mac, Martin Lawrence, and Eddie Murphy as his role models. He spells his name with two c's, so it would not be too confusing with Bernie Mac. But like Bernie Mac, Willie Macc aspires to one day have his own TV show.
~~~
The Virzi Triplets
Alex, Mitchell, and Sean Virzi are identical triplets and stand-up comedians born and raised in Los Angeles. Their energetic comedy has been featured on America's Got Talent, ABC's The Gong Show, TBS' 'Angie Tribeca' and Hulu.
The Virzi Triplets are a party on stage as their high-energy, free-flowing set blends act-outs, stories, jokes, and improvisation together for a completely unique performance every night with a chemistry and synchronicity that is unparalleled.
As three man-children in their mid-20's, their old school Italian upbringing tends to clash with their millennial Los Angeles environment. Whether they're joking about ridiculous current trends, their crazy family, their unique experience as triplets, or mocking their own subtle differences, these charming idiots tackle all issues with a warmth and edge that only brothers could get away with. These three are more than happy to unload a lifetime of dirty laundry leaving the audience feeling like they are just part of the family.
They were regulars on the popular "Kill Tony" podcast hosted by Tony Hinchcliffe. Their weekly podcast "Brotocol" tackles a new issue affecting the 21st century, offering a guide for the modern man to live by.