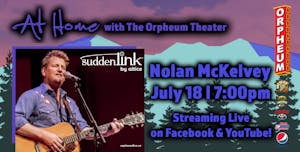 Suddenlink & The Orpheum Presents:
At Home With The Orpheum Theater Featuring: Nolan McKelvey
$0.00 - $1000.00
On Facebook Live
At Home with The Orpheum Theater: Nolan McKelvey
This episode of At Home with The Orpheum Theater is made possible by Suddenlink and also your very generous contributions. Featuring Nolan McKelvey, the show will be broadcast starting at 8pm on Facebook Live through The Orpheum's page and The Orpheum Presents YouTube Channel.
At Home with The Orpheum Theater is produced by The Orpheum Theater in downtown Flagstaff, Arizona as a fundraiser to keep you local, independent venue alive. You can donate to #SaveOurStages here:
GoFundMe: https://www.gofundme.com/orpheumflagstaff
Venmo: @OrpheumFlagstaff and www.venmo.com/OrpheumFlagstaff
PayPal: orpheumtheater.flagstaff@gmail.com
---
The Orpheum Theater has been closed since mid-March and we will be one of the last able to reopen. With the entire industry at a standstill, our coworkers, employees, and artists are staring down the terrifying prospect of being entirely without employment for an indefinite period of time. Visit nivassoc.org for more information on how you can help save independent music venues across the country.
---
Over the course of his twenty-five-year career, Nolan McKelvey has covered nearly every corner of the country and traversed all roads of Americana. From the pavement of alt-country, to the dusty trails of bluegrass, to the gravel roads of classic-country, to the interstate highway of straight up rock-n-roll, Nolan has traveled over miles of ground and received critical acclaim along the way from Magazines like No Depression, Country Standard Time, The Boston Phoenix, The Boston Globe, and Performer Magazine among many others.
Nolan has opened for luminaries of Americana like Greg Brown, Peter Rowan, Odetta, Fred Eaglesmith, Los Lobos, Sam Bush, Bela Fleck, Tim O'Brien, Jerry Douglas, and Leon Russell. He has also opened for contemporary artists like Sugarland, Leftover Salmon, Railroad Earth, Derek Trucks, Cowboy Junkies, Gregory Alan Isakov, Pat Green, Richard Buckner, Jack Johnson, Infamous Stringdusters, Freight Hoppers, Sonia Dada, Tim Reynolds, Dave Simonett, Jeffrey Foucault, Nicki Bluhm and the Gramblers, Roger Clyne and the Peacemakers, Son Volt, Josh Ritter, David Grisman and the list goes on and on...
Nolan performed in several bands in Boston, including The Benders, The Resophonics, with Kris Delmhorst, Ry Cavanaugh, The Vinyl Avenue String Band, Jabe, Bow Thayer, and his own 33. He was dubbed "Central to the (Boston) roots-rock revival" by WBUR radio. His bands won two Boston Music Awards (BMA) and were nominated for BMA's 7 times in his 5 years in the city. Since returning to Arizona, Nolan was named "Best Musician" by the readers of the Arizona Daily Sun and has been dubbed "One of the best songwriters in the southwest," and "Flagstaff's Poet Laureate." (FlagLive)
Nolan's studio credits include recording with grammy-winner Levon Helm (The Band), Dana Colley and Billy Conway (Morphine), Paul Q. Koldrie (Pixies, PJ Harvey, Radiohead and more), Jennifer Kimball (The Story, Wayfaring Strangers) among many others. Nolan's songs have appeared on 19 cds to date, he released five solo cd's, three discs with The Benders, six with Muskellunge, four with former band Onus B. Johnson and a duo disc with Dave Desmelik. Nolan's work as a bass player and harmony singer pushes the release list over 75 recordings.
Nolan has performed at the Newport Folk Festival (RI), Cambridge Folk Festival (MA), Boston Folk Festival (MA), Telluride Bluegrass Festival (CO), Sedona Bluegrass Festival (AZ), Tweed River Music Festival (VT), Roots on the River (VT), Tilted Earth Music Festival (AZ), Musical Instrument Museum Music Festival (AZ) and Pickin' in the Pines Acoustic Music Festival (AZ) among many more. His music has aired on nationally syndicated radio shows like World Café, Nashville Bluegrass Breakdown, and Car Talk.
Nolan currently performs his own songs solo, with Nolan McKelvey Band, and with Muskellunge, and is the bass player in Tramps and Thieves. He performs regularly in the Southwest, and occasionally on the east coast.