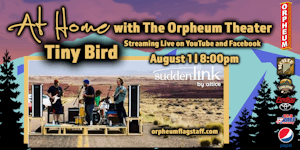 Suddenlink & The Orpheum Presents
At Home With The Orpheum Theater Featuring: Tiny Bird
Peachblud
At Home with The Orpheum Theater: Tiny Bird
This episode of At Home with The Orpheum Theater featuring Tiny Bird with support from Peach Blud the show will be broadcast starting at 7pm.
#SaveOurStages:
At Home with The Orpheum Theater is produced by The Orpheum Theater in downtown Flagstaff, Arizona as a fundraiser to keep YOUR local, independent music venue alive during these challenging times. You can make a donation on the night of the show or right now. To help sustain The Orpheum now, make a donation at any one of the following:
GoFundMe: gofundme.com/OrpheumFlagstaff
Venmo: @OrpheumFlagstaff and venmo.com/orpheumflagstaff
PayPal: orpheumtheater.flagstaff@gmail.com and paypal.me/orpheumflagstaff
The Orpheum Theater has been closed since mid-March and we will be one of the last able to reopen. With the entire industry at a standstill, our coworkers, employees, and artists are staring down the terrifying prospect of being entirely without employment for an indefinite period of time. Visit nivassoc.org for more information on how you can help save independent music venues across the country.
---
Peachblud is: an attempt at fortifying the passion with enough anxiety and sweetness to then be spread on to one giant peice of toast to be shared and enjoyed by all willing to feel uncomfy. In other terms, we are a duo that plays nice songs for you, but probably mostly for ourselves.