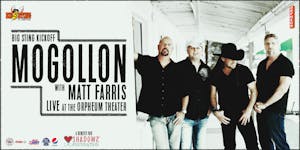 Shadows Foundation Presents:
Mogollon
Matt Farris
$11.00
Tickets At The Door
Big Sting Kickoff featuring Mogollon with Matt Farris
Based in Phoenix AZ, Mogollon continues to perform the BEST live country and rock songs for audiences world wide!
Mogollon, (pronounced Mug-E-on) began in the small Northeastern Arizona town of Overgaard. The name of the band is derived from the "Mogollon Rim".
Playing music was a good way for a few high school buddies to impress the girls and to combat the boredom of a small town. After a few performances around the area, people agreed this "hobby" of theirs had potential to become more. And they were right!
Today, Mogollon has earned the reputation as the premier country rock entertainment group in the West and continues to keep their high standard. Their scope of performing ability is truly amazing! They can play about anything, from Hank Williams to Pink Floyd to their original written songs.
~~~
Matt Farris's career has gotten off to a promising start. A heart for helping those in need paired with an incredible talent and positive energy has allowed for the early and natural growth of a significant fan base. All of these characteristics have given Farris a strong foundation on which to build his career – one that, at the hands of another, was almost instantaneously taken away.
Entertaining family and friends from the moment he spoke his first word, Farris's passion for entertainment has always been apparent. With an early exchange of lullabies for classic country tunes sung by his mother Sandra, the Lake Havasu City, Arizona ­native has ever since gravitated toward the genre.