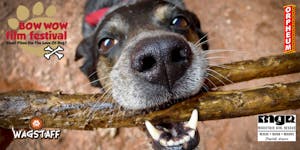 Wagstaff presents: Bow Wow Film Festival, a benefit for Mountain Girl Rescue
Wagstaff presents - The Bow Wow Film Festival, a joyful, traveling, dog -centric collection of short films that celebrates the human canine bond. Featuring the year's best pooch-themed shorts all wrapped up in one beautiful, 90 minute, fun-loving package. Adventure Dogs, Working Dogs, World-Champion Dogs, Animation and the return of Ask Frank and his advice column along with our very own Local Feature - Trail Dawgz ! Proceeds benefiting Mountain Girl Rescue. Family Friendly with Amazing Raffle Prizes and Silent Auction Items for festival goers!
On-site table vendors offering goodies for both people & pets! Pre-show tickets available direct from Wagstaff $10 or online at www.orpheumflagstaff.com & Box Office $12.50
Come laugh and cheer and maybe even tear up a bit as we marvel in all the ways these beloved furry creatures touch our lives! For the Love of Dog be there!