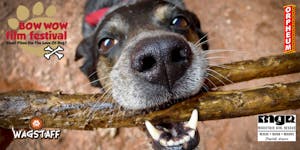 Bow Wow Film Festival 2019
A Benefit for Mountain Girl Rescue
Wagstaff presents: Bow Wow Film Festival, a benefit for Mountain Girl Rescue
Wagstaff presents - The Bow Wow Film Festival, a joyful, traveling, dog -centric collection of short films that celebrates the human canine bond. Featuring the year's best pooch-themed shorts all wrapped up in one beautiful, 90 minute, fun-loving package. Adventure Dogs, Working Dogs, World-Champion Dogs, Animation and the return of Ask Frank and his advice column along with our very own Local Feature - Trail Dawgz ! Proceeds benefiting Mountain Girl Rescue. Family Friendly with Amazing Raffle Prizes and Silent Auction Items for festival goers!
On-site table vendors offering goodies for both people & pets! Pre-show tickets available direct from Wagstaff $10 or online at www.orpheumflagstaff.com & Box Office $12.50
Come laugh and cheer and maybe even tear up a bit as we marvel in all the ways these beloved furry creatures touch our lives! For the Love of Dog be there!
Mountain Girl Rescue is dedicated to ending suffering and the causes of suffering by facilitating a pathway to a new life for dogs at risk throughout Arizona primarily by providing transportation to a network of no-kill shelters and rescues dedicated to adopting them into permanent, forever homes.
Donations are lovingly accepted digitally via PayPal at mountaingirlrescue.wordpress.com/donate or by snail mail to our address below.
All contributions are tax deductible. The Tax ID for MGR is 82-1272944.Mountain Girl - PO Box 465 - Flagstaff, AZ 86002 The pups thank you!! LOVE WINS!