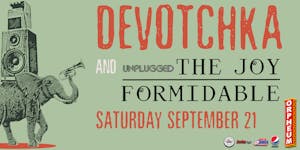 Presented by The Orpheum Theater
DeVotchKa
The Joy Formidable
$24.00 - $54.00
Sales Ended
DeVotchKa and The Joy Formidable
A cross-pollination of numerous influences, including cabaret, spaghetti Westerns, norteño, punk, and the immigrant dance music of Eastern Europe, Colorado-based quartet DeVotchKa, formed in Denver by multi-instrumentalists Nick Urata (vocals, guitar, trumpet), Tom Hagerman (violin, accordion), Jeanie Schroder (sousaphone, bass) and percussionist Shawn King, emerged as unlikely indie heroes in the mid-2000s infusing modern indie music with a global flavor.
They found widespread success in 2006 with their Grammy-nominated soundtrack to the hit indie film Little Miss Sunshine. Signing with revered indie, Anti-, the band delivered A Mad and Faithful Telling in early 2008, reaching the number nine slot on the Billboard Heatseekers chart. A lengthy world tour followed, including stops at major festivals like Bonnaroo, Lollapalooza, and Bumbershoot. After doing more soundtrack work, this time for the 2009 comedy I Love You Phillip Morris, the group returned to the studio for 2011's moody and triumphant 100 Lovers. Embarking on another world tour, they collaborated with the Colorado Symphony on the 2012 concert album Live with the Colorado Symphony.
Over the next several years, Urata became increasingly involved in his own film composition career, scoring movies like Crazy Stupid Love, Whiskey Tango Foxtrot, Paddington, and the Netflix series A Series of Unfortunate Events. Meanwhile, the band regrouped for a lengthy recording session, eventually returning in 2018 with their sixth album, This Night Falls Forever, this time via Concord Records.
~~~
The Joy Formidable are Ritzy Bryan (vocals, guitars), Rhydian Dafydd ( vocals, bass) and Matt Thomas (drums, percussion). Formed in North Wales 10 years ago, each album they've released has been a joyful adventure and reflection of their fearless, creative discovery and self evolution. The critically-adored trio has always refused to be fenced in or fit in — that restless and boundless artistic journey continues on their latest album 'AAARTH', an arresting and unapologetic tour de force that finds a band at its apex with no sign of getting comfortable.
This year sees them celebrating their 10th year together with a commemorative release of their first EP, A Balloon Called Moaning (details to follow) & the launch of Formidable Fest in Wales. Touring this year includes several appearances in the US & Europe including a special invite from Robert Smith to play The Cure curated Pasadena Daydream Festival & Glasgow's Summer Sessions in August.