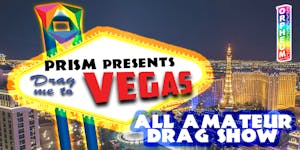 PRISM presents: Drag Me To Vegas All Amateur Drag Show
PRISM NAU presents their annual All Amateur Drag Show featuring performers from the NAU student community. Auditions have been held, check back for the complete list of performers!
PRISM stands for People Respecting Individuals and Sexual Minorities. PRISM Strives to empower, advocate, and support individuals who identify with lesbian, gay, bisexual, trans, questioning, intersex, asexual, and queer identities. (hereafter respectfully referred to as non-conforming, intersecting identidies; "queer.") PRISM accomplishes this through creating a safe space for cultivating alliances, leadership and educational opportunities.