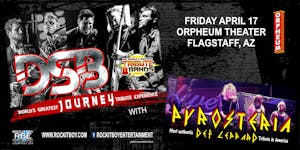 Presented by Rock.It Boy Entertainment of America
***CANCELED***
DSB - A Tribute to Journey
Pyrosteria - The Def Leppard Tribute
DSB - World's Greatest Journey Tribute Experience + Pyrosteria - Def Leppard Tribute
Since 2009, DSB's high-energy stage production and accurate recreations of Journey classics have made DSB the #1 Journey tribute show in the world.
DSB has been highly revered as the "next best thing" to Journey. They have captured the lush and signature sound of renowned vocalist Steve Perry and Journey in their prime. Complete with a band of world-class musicians, DSB remains true to Journey's musical legacy and delivers the nostalgic concert experience that will keep you believing!
A recreation of the Def Leppard era with a tour through the hit albums Pyromania and Hysteria. PYROSTERIA has the looks and sounds that made DEF LEPPARD a worldwide success.The PYROSTERIA show plays the majority of Pyromania and Hysteria albums with a few early gems and a few newer hits.