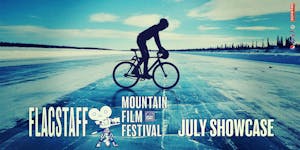 Presented by Flagstaff Mountain Films and The Orpheum Theater
FMFF 2019 Summer Showcase: Breaking Barriers
Flagstaff Mountain Film Festival - July Showcase: Breaking Barriers
Join us at our July Summer Showcase presented by the Flagstaff Mountain Film Festival and the Orpheum Theater, featuring a myriad of films highlighting the strength of the human spirit to break cultural, physical, and mental barriers.
Space to Explore - 14 min
Natalie Panek has spent her life focused on her biggest dream - to be the first to set foot on another planet. Natalie is an aerospace engineer, a pilot, an influencer, an avid explorer, and has made it to the top 100 of astronaut candidates. On an outdoor adventure to the Mars-like terrain of Moab, Utah she searches with her friend to reconcile life's stumble, redirections and challenges in the pursuit of space travel. Their jobs are to design the next Mars rover, but cutting a path in a Razer 4x4 might be the closest they get to a crewed mission to Mars. In the face of sky high arches and pinnacles, breathtaking views, and a canopy of stars, it's easy to see the limitless of adventure on Earth.
YoJani: A Cuban Skate Story - 2 min
You have to be creative to find good places to skate in Havana, Cuba. Perhaps no one understands this better than Yojani Perez Rivera. While most skateboarders are overcoming obstacles in the form of ledges, rails and security guards, skateboarders like Yojani in Cuba struggle to even find a board to skate on. Political and economic conditions mean that imported boards are scarce and materials to make your own are just as hard to find. This, however, did not deter Yojani who has become a pioneering figure in the Cuba skate community. Against the background of the old city, a young and vibrant community of skaters is thriving with Yojani at the helm.
The Last Green Thread - 17 min
In 2018 three friends set out on an expedition into the most rapidly developing landscape in Central Florida, traveling the narrowest and most imperiled wildlife corridor in the state.
Escape - 8 min
JaBig, a Montreal-based DJ, is on a quest to beat the record for the longest continuous bike ride in a single country. Join him on the last day of his ride to discover what happens when you stop listening to all the reasons why you shouldn't, and listen to the voice inside you, telling you to go.
Craig's Reaction- 24 min
Since a 100 foot fall in 2002 that took his right leg and left him with spinal injuries, Colorado climber Craig DeMartino has led one hell of a life, including lauded First Disabled and In-A-Day Ascents on El Capitan. But it's his day-to-day story that really makes an impact.
Intermission - 20 min
Dignity at a Monumental Scale- 8 min
When images of everyday Navajo life began appearing at a monumental scale on abandoned buildings, roadside stands and water towers across the Four Corners region, it was a surprise for many in the community to discover it was the work of Chip Thomas aka "Jetsonorama," a long-time resident known by many as a healer of another kind.
Wild Ice - 3 min
"Backcountry skating" is the practice of hunting for wild ice, whether on on a river, lake, glacial lagoon, or inside an ice cave. Filmed in southcentral and southeast Alaska over the course of two winters, "Wild Ice" features nordic bladers, hockey players, figure skaters, and a few adventurous puppies. Shot locations include Kenai Lake, the Portage Lagoons, Turnagain Arm, Wasilla Lake, Sheridan Glacier, Byron Glacier, and Portage Glacier.
Free Falling - 26 min
In the wake of his friends' deaths, Danny Weiland sets out to break the World Record for most human-powered BASE jumps in 24 hours. Unassisted by machines or vehicles, Danny will attempt to jump off of the Perrine Bridge over 60 times and then climb the 486 feet out of the canyon, including over near-vertical sections of cliff where a wrong move could be fatal. The sheer number of jumps needed means that he must climb more vertical feet than the summit of Mount Everest. For Danny it isn't just a brutal test of skill, it is a tribute to fallen friends and a promise of transformation. As he describes it, "I will be a different person when this is over. It's like a snake shedding its skin, and that's what's exciting."