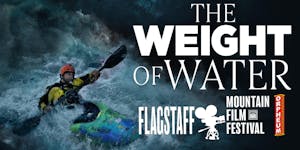 Presented by Flagstaff Mountain Films and The Orpheum Theater
FMFF September Showcase: The Weight of Water
Flagstaff Mountain Film Festival - September Showcase "The Weight of Water"
If you missed the Arizona premiere of "The Weight of Water" at the Flagstaff Mountain Film Festival in February - now is your chance to see an encore presentation of this amazing film!
Erik is totally blind and is solo kayaking the length of the Grand Canyon. In Lava Falls, a large dangerous rapid, he discovers that despite what people might say, barriers can be real and they hurt .. a lot.