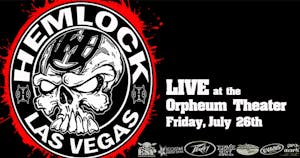 Presented by The Orpheum Theater
Hemlock
Jezus Rides a Riksha, Dying Tribe, GRIMM
Hemlock Live at the Orpheum Theater
Flickering strobe lights fade to black, thumping bass guitar strings test the darkness, and a thousand fists punch the air to the chanting of the massive crowd: "Hem-lock! Hem-lock! Hem-lock!" With an ear-crushing first note, the men of Hemlock pound the stage and instantly win the diehard devotion of the music lovers there. But Hemlock, made up of Chad Smith (24, bass and lead vocals), brother Brian Smith (26, drums), Mike Johns (27, guitar and backing vocals), and D.J. Kinsley (22, guitar and backing vocals), are more than simple "rock stars"-they are as fiercely dedicated to their music and fans as their audiences are to them.
For every show that Hemlock performs, the members, friends, family and street team of Hemlock promote for weeks in advance, hanging up posters and signs, and passing out fliers by hand to thousands of people. Hemlock also has free email and standard mailing lists with thousands of names of fans who have signed up at the shows and on the band's official website, hemlockworld.com, which has gotten over 50,000 hits in only a few months.
After Hemlock draws in the crowds, selling out countless venues, these gifted musicians creatively keep the concert-goers happy and entertained. Two legendary Hemlock concert events that everyone eagerly anticipates are the "All Girl Pit" for the song Sour and the "Split the Pit" of Conniption Fit, both of which have video footage fans can download from Hemlock's website hemlockworld.com. Unique merchandise created by the band are Hemlock mousepads, wallets, antennae balls that look like Hemlock members, snowglobes, panties, visors and trucker hats, backpacks, lunchboxes, purses, belts, and even Hemlock perfume and cologne, plus there's the typical CDs, hoodies, windbreakers, and other goodies Hemlock has to offer. And as always, after the show, Hemlock holds a "Meet and Greet" so fans can have the chance to visit with them and get autographs and photos with the group.
Hemlock is not just a passing craze-they've been together since 1993 and have recorded five albums: Hard Pressed, Controlance, Return of the Clunkinator, Shut Down, and their most recent Pigeonholed, produced by Mikey Doling of Soulfly and Snot fame. Based in Las Vegas, NV, Hemlock has toured throughout the Western U.S. and as far East as Louisiana with bands such as Hatebreed, Chimaira (with plans to tour the East Coast with them later this year), Drowning Pool, Coal Chamber, Soulfly, System of a Down, Hed Pe, Papa Roach, Machinehead, and many more. Hemlock wins contests and earns regular rotation slots on radio stations like KUPD in Phoenix, KZGL in Flagstaff, KDOT of the Reno/Lake Tahoe area, Las Vegas's 107.5 X-treme Radio and KOMP 92.3, XM Radio, The X of the Inland Empire of California, and dozens of college radio stations in the Western U.S.
More tours, radio airplay, and CD recordings are in the works for Hemlock, but the growing fame these bring doesn't go to their heads. Hemlock will always stay loyal to their fans, signing autographs or just saying hello and visiting for a few minutes at a restaurant or mall, and their music will always be true, because as Chad says in his intro to Kill Your Children, "This one's about me. This one's about you. This one's about all of us…" It's not just a band, an audience, and music-Hemlock is a way of life.