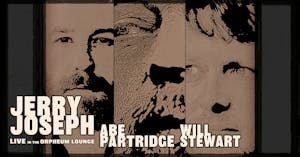 Presented by The Orpheum Theater
Jerry Joseph
Will Stewart, Abe Patridge
$12.00 - $16.00
Sales Ended
Jerry Joseph, Abe Partridge, and Will Stewart
Jerry Joseph is a prolific and accomplished songwriter, writing hits for Widespread Panic and releasing 30 albums in his 30+ year career; as a solo artist, with the Jackmormons, supergroup Stockholm Syndrome, his burning two-piece The Denmark Veseys, or originally, with his beloved 80s cult band, Little Women.
Joseph is also a relentless live performer, playing over 150 shows a year across the globe. He has toured with Vic Chesnutt, Chris Whitley and Walter Salas-Humara, among others. His recent musical travels include a stint volunteering as a rock school music teacher in Kabul, Afghanistan; touring Costa Rica's Pacific Coast with the Jackmormons; and solo tours in Ireland, England and France as well as performances in Nicaragua, Thailand, Cambodia, Vietnam, Malaysia, Nepal, Lebanon, Germany, Czech Republic, Switzerland, Norway, Netherlands, Spain, Italy, Sweden, Denmark, Brussels, Czech Republic, Iceland, Mexico, and Israel. Over the years, Joseph and his Jackmormons have shown a penchant for picking a spot on a map, taking over a town, and putting on a festival. Last year, Jerry Joseph and the Jackmormons released a live concert DVD, Nicaragua, recorded over three nights just outside of Rivas, Nicaragua.
Joseph was inducted into the Oregon Music Hall of Fame in October 2015. He will be touring in Mexico, Australia and New Zealand this Winter and Spring in addition to the States.
Abe Partridge is one of the most respected songwriters and visual folk artists in Mobile, Alabama. He released his second full-length release, Cotton Fields and Blood For Days, in January 2018 to rave reviews and substantial airplay on Americana radio and landed Partridge a lengthy feature in The Bitter Southerner. Ranging from the earthy to the surreal, from the spiritual light to the depths of depression, Partridge draws listeners in with a combination of southern gothic storytelling, dark humor and gripping intensity. Savannah Morning News said, "The singer/songwriter has emerged in the last two years as a tour-de-force of a live act, with the DNA of folk heroes named Townes, Bob and John, combined with his own unique perspective of rock 'n' roll and his Southern homeland." Partridge made his debut at The Bluebird Café in Nashville, July 2018 and brought the house down with his passionate performance. He toured the Netherlands and Belgium November of 2018 and performed at the prestigious 30A Songwriter Festival in Santa Rosa, Florida, in January of 2019 along with performers such as Jason Isbell, Steve Earle, Shawn Mullins and more.
Partridge is currently putting the finishing touches on a new album he is recording with Nashville guitarist/producer Shawn Byrne. His new album is expected to be out by the end of 2019.
In March 2016, Will Stewart headed back home to Alabama. He'd been away for years, living in Nashville while earning his stripes as a songwriter, frontman, and lead guitarist. His fans reached as far away as London, where The Guardian — one of the U.K.'s most widely-reached papers — hailed his work.
Still, something kept drawing him down South. He'd grown up there, surrounded by the twang of classic country music and the stomp of rootsy rock & roll. Alabama was a complicated place, its history filled with dark characters and cultural clashes, but it was oddly compelling, too. It was home. Unable to resist the pull, Stewart returned to Birmingham. There, after a decade away, he rediscovered his muse: the Modern South, whose characters, complexities, open spaces, and strange beauty are all channeled into Stewart's full-length solo debut, County Seat.
Released in 2017, County Seat is a guitar-fueled Americana record, caught somewhere between the worlds of country and electrified rock. The songs are roomy and lush, the result of an inspired — led by Stewart, who handles singing and guitar-playing duties — whose members recorded all nine tracks in two short days. There are swirls of swooning pedal steel, layers of vocal harmony, and the pastoral punch of a songwriter looking to turn the landscape of his home state into music. Close your eyes while playing songs like "Brush Arbor," whose title references Dennis Covington's Salvation on Sand Mountain, and you'll hear Stewart's Alabama home.