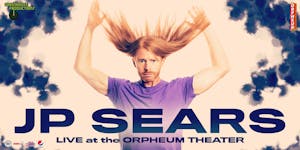 Presented by Greenhouse Productions
JP Sears
Shaun Murphy
$25.00 - $75.00
Sales Ended
Greenhouse Productions presents: JP Sears Seated General Admission Show
Seated General Admission Show.
JP Sears is a YouTuber, comedian, emotional healing coach, author, speaker, world traveler, and curious student of life. His work empowers people to live more meaningful lives. He is very active with his online videos where he encourages healing and growth through his humorous and entertainingly informative videos, which have accumulated over 300 million views. JP is also the host of his new podcast, The Awaken With JP Sears Show.
Shaun Murphy is a comedian originally from Buffalo, NY who has performed in many clubs and colleges throughout North America. He has told jokes at prestigious places like the Boston Comedy Festival and the Asheville Comedy Festival to less prestigious places like a high school graduation party with a broken microphone. He has been lucky enough to feature for a diverse group of headliners such as Dave Attell, Michael Ian Black, Jen Kirkman, Tom Green and Mark Normand. Shaun's like-ability and awkwardness keeps audiences captivated whenever he performs. However, he thinks it's really weird to impress strangers by talking about his accomplishments but hopefully it worked. If not, that's okay too. He currently lives in New York City and has no money.