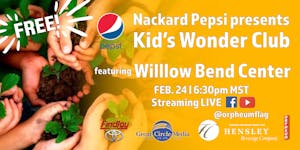 Kid's Wonder Club: A Virtual Family Program
The Incredible World Of Seeds With Willow Bend Environmental Education Center
Kid's Wonder Club: A Virtual Family Program
Explore the incredible world of seeds with Willow Bend! Do seeds travel? do some seeds explode? can they float on water? why do seeds look so different? Answers to all these questions and more. Activity includes seed art.
Your Material List:
Dried beans (the more colors and varieties the better)
Dried pop corn
Other miscellaneous seeds
Coloring pages available for download here
* Register for this event by clicking the button labeled 'FREE' and have the stream link delivered directly to your inbox along with events reminders!