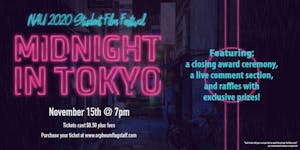 UTV Studios Presents: The NAU Student Film Festival
UTV Studios is a student-run production studio. UTV Studios produces high-quality short films each semester. Students with an interest in filmmaking and the entertainment industry can gain valuable professional film set experience and earn industry credits for their work in UTV Studios. The organization provides a great atmosphere for learning and honing filmmaking skills, and can also lead to networking and award opportunities for students involved.
Upon purchasing a virtual ticket a private stream link will be delivered to your inbox.
Student Films Showing:
The Believer
A young gangster is torn between right and wrong on the day of his 18th birthday.
June Heist
The story of a single mother as she fights for her daughter's happiness while battling the effects of poverty.
Laundry Day
During the early stages of quarantine, a lone man tries to find ways to pass the time while he waits for his laundry.
Skin Deep
A young hiker wakes up under the care of a mysterious woman and must uncover the sinister truth of how he got there.
Next Door
When a new girl moves in next door, Julian, a shy college student, musters up all of his strength to try and ask her out.
Dias Que Pasé Bajo el Sol
A documentary which follows a young musician as he returns to his home in Spain to create new memories with old friends.
Circle
A man wants to rob a store at the gas station, but he finds that the cashier has been killed, and this man is caught in a time loop that threatens his life.
Quantum Bound
A man visits an old friend only to discover the deep rabbit hole of his friend's mind and daunting creation.
Dreaming Analogue
An experimental film diving into the thoughts of a dream scape and the purpose we give to life.
Qualm
With the stresses of life, a young man tries to face the fears he has through finding peace in the most uncommon place.
1982201
In times of a pandemic, this experimental film explores the feelings of isolation and hopes for a better turn.
Finding Tyme
Stuck in his past, a struggling artist copes with his meaningless job and a tough breakup in a small town.
It's Spring Festival
This documentary shines light on some of the aspects of how Chinese New Years is celebrated in America.
---
Thank you to our Sponsors!
Dark Sky Brewing Co.