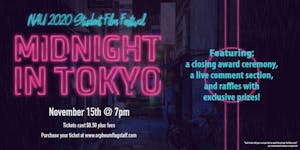 UTV Studios Presents: The NAU Student Film Festival
UTV Studios is a student-run production studio. UTV Studios produces high-quality short films each semester. Students with an interest in filmmaking and the entertainment industry can gain valuable professional film set experience and earn industry credits for their work in UTV Studios. The organization provides a great atmosphere for learning and honing filmmaking skills, and can also lead to networking and award opportunities for students involved.
Upon purchasing a virtual ticket a private stream link will be delivered to your inbox.
Student Films Showing: To Be Announced
Thank you to our Sponsors:!
Dark Sky Brewing Co.