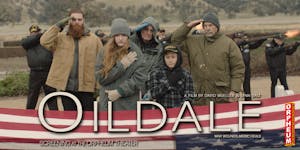 Presented by Veterans Resource Center of America
Oildale Feature Film Screening
The Arizona Premiere of "Oildale" - a benefit for Veterans Resource Center of Flagstaff
About The Event
Join us for the Arizona Premiere of "Oildale" with writers and directors David Mueller and Lynn Salt, as well as actress Jessica Castello in attendance. Proceeds from the screening will benefit Veterans Resource Center of Flagstaff, a non-profit organization that offers community-based programs for veterans and their families.
About The Film
Homeless veterans find family as they rent rooms from an eighteen-year-old girl struggling to support her thirteen-year-old brother while discovering her voice in Americana music.
Set in the Central Valley of California, where dustbowl refugees from Oklahoma and Texas planted the seeds of a brand new form of American music–a form that would eventually breed singer-songwriters Merle Haggard, Buck Owens and others of the "Bakersfield Sound"–"Oildale" is an homage to this music, to veterans and to the people of small towns everywhere. Our locations, cinematography, pacing and music were all chosen to communicate a collective American nostalgia for a more innocent time and place. The kindness of strangers, self-sacrifice, the unspoken anguish of combat veterans and the universal need to find a sense of "home" all live in the heart of "Oildale".
With an enormously generous and supportive cast and crew, we made an "old-fashioned" movie, steeped in nostalgia with six original songs that will speak to the hearts of all Americans. "Oildale" reflects on lives passing, on lives healing and lives moving forward with a sense of hope that even when we lose family a new family can always be found.