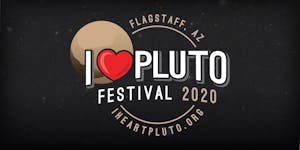 Pluto Discovery Day
In conjunction with the Flagstaff Film Festival and Downtown Business Alliance, this program celebrates Clyde Tombaugh's Day of Discovery of Pluto, on February 18, 1930.
6 pm: Doors open & Taste Testing of Mother Road's limited edition Pluto Porter brew
7 – 9 pm: Pluto Discovery Day programming
Lowell Observatory Historian Kevin Schindler will retrace Tombaugh's Day of Discovery, from his startling detection of Pluto at Lowell Observatory to several spots in downtown Flagstaff and ending at the Orpheum Theater, where he watched the 1929 film, The Virginian.
Lowell Observatory Planetary Scientist Will Grundy and Northern Arizona University Professor Steve Tegler will discuss Pluto research currently going on in Flagstaff.
City of Flagstaff officials will talk about what Pluto means to our community, "The Home of Pluto".
The beer makers at Mother Road Brewing will introduce their limited-edition Pluto Porter. Guests will have the opportunity to purchase this and other drinks throughout the evening.
Culinary experts from Karma Sushi Bar Grill will share the story behind their Pluto Roll.
The Flagstaff Film Festival will show several movie shorts highlighting the spirit of adventure and discovery.
WATER (4 min)
There could not be life as we know it on another planet without water. This is a four-minute journey to some of our planet's most spectacular glaciers, waterfalls, beaches, rivers and waterways.
Space to Explore (13 min)
On an outdoor adventure to the Mars-like terrain of Moab, Utah, Natalie Panek seeks to reconcile life's stumbles, redirections and challenges in her pursuit of space travel. Natalie has spent her life focused on her biggest dream - to be the first to set foot on another planet. As an aerospace engineer, a pilot, and avid explorer she has made it to the top 100 of astronaut candidates. In the face of sky high arches and pinnacles, breathtaking views, and a canopy of stars, it's easy to believe that all the adventure you need is right here on earth.
Full Moon (6 min)
Lift lines and high mountain fashion are a far cry from the solitude of space, but at night it can be just the sound of skis turning in fresh snow that breaks the silence of the full moon. This film was shot without any artificial light during the full moon periods of winter 2019. An aesthetic challenge for both skiers and filmmakers.
Streetlights of the Universe (7 min )
Astronomers prepare to probe the mysteries of dark energy by assembling the largest ever 3D map of the universe.
DreamRide (3- 6 min )
Space exploration begins in our own mind with the unity of our ambitions and our dreams. DreamRide 3 is the third and final chapter in the award winning series that has transported audiences to the wildest reaches of ones imagination. It uses a mountain bike to capture the drive to go further that is the essential ingredient in all exploration.
Night Spoken (6 min )
For eight beautiful nights at the 2018 Grand Canyon National Park Star Party, a vintage cassette recorder was placed on a table under the stars for visitors to find. Next to the old machine was a sign that invited visitors to imagine themselves as messengers from the year 2218, where stars can no longer be seen due to light pollution. They looked up. And they left these responses.
8000+ (21 min )
As long as we've gazed at the sky humans have endeavored to be in it. In July 2016, the paraglider Antoine Girard set off on a three-week hike-and-fly tour to explore the Karakorum mountains in Pakistan with the hope of setting a new altitude record in paragliding, but the air is thin between the 8,000-meter peaks, and take-offs and landings are extremely tricky. Especially when you only have one person to rely on—yourself.