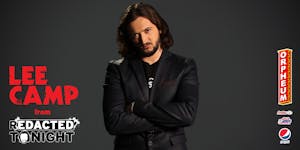 ***CANCELED***
Lee Camp
Eleanor Goldfield
$12.50 - $50.50
Canceled
On Brown Paper Tickets
Redacted Tonight's Lee Camp - Live Stand Up Comedy & Book Release Event!
Comedian & Host of Redacted Tonight, Lee Camp, comes to Flagstaff for a LIVE Stand Up Comedy show and Book Talk + Q& A after the show! With Special guest Comedian Krish Mohan opening the show!
VIP Tickets includes a copy of Lee's new book, "Bulletpoints & Punchlines"!
Lee Camp is the head writer and host of the national TV show Redacted Tonight with Lee Camp on RT America. He's a former contributor to The Onion, former staff humor writer for the Huffington Post, and his web series "Moment of Clarity" has been viewed by millions. He's toured the country and the world with his fierce brand of standup comedy, and George Carlin's daughter Kelly said he's one of the few comics keeping her father's torch lit. Bill Hicks's brother Steve said Lee is one of only a handful with Bill's "message and passion."
Eleanor Goldfield is a creative activist and journalist. Her performance work blends music, spoken word and visual projections focused on radical engagement and change. Her work has appeared on Free Speech TV and in print via Truthdig, ROAR, Popular Resistance, RT and more. She is also the co-host of the podcast Common Censored along with Lee Camp. Besides touring, performing and journalism work, she assists in frontline action organizing and activist trainings.