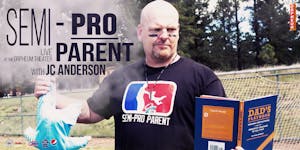 Presented by Jester Comedy and The Orpheum Theater
Semi-Pro Parent Comedy Show
JC Anderson, David Smalley
Jestercomedy Presents: Semi-Pro Parent Comedy Show
Not all Parents are created the same; some like to pretend we have it all figured out, but we all are really #semi-pro parents when it comes to raising children. Join us for a night of laughter and stories as JC Anderson describes his experience raising 2 children, getting married at a young age and his hilarious struggles with getting older.
JC Anderson is a professional Comedian who started his entertainment career in the late 90's as a comedy writer and a host for an Arizona cable TV show called "Local Idiots". He also performed as a stunt man for low budget movies, attempted to play bass in a traveling band and was hit with chairs and thrown through tables as a professional wrestler.
He quickly realized the less painful way to the entertainment world was through comedy , so he began his comedy career years ago slinging jokes in Arizona, Vegas and California at bowling alleys, bars and comedy clubs. Since then, he has shared the stage with comedy legends Dana Carvey, Nick DiPaolo, Doug Stanhope, Lisa Landry, Bruce Baum, Craig Gass, Adam Devine and WWE Hall of Famer Mick Foley. Although for a short glimpse, JC has appeared on Last Comic Standing and NBC Channel 12 news.
JC is a comedy producer for the Orpheum Theater in Flagstaff Arizona and is a part of the production team for the annual Big Pine Comedy Festival held in Flagstaff Arizona. JC is currently the host of 2 podcast iTunes (Me Podcast You Listen and Brother Low Down 7.0) and continues to tour the comedy scene and can be seen slinging jokes at national clubs, events, colleges and sometimes in the bowling alleys.