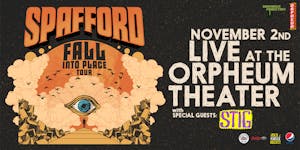 Presented by Greenhouse Productions and The Orpheum Theater Flagstaff
Spafford
Stig
$20.00 - $82.00
Sales Ended
Greenhouse Productions presents Spafford
On New Year's Eve in 2009, guitarist Brian Moss and bassist Jordan Fairless joined up to play a show in their home state of Arizona and ring in a new decade. Moss and Fairless had been playing the same open mic nights and after their first successful joint effort decided to team up and officially form a band: Spafford. After playing shows in their home state, the pair found themselves on the hunt for a new partner to help them round out their group. They found keyboard player Andrew "Red" Johnson and asked him to voyage out to Las Vegas in the run up to their 2011 New Year's show in Prescott. Johnson agreed, and has been with the band ever since. Now, with drummer Nick Tkachyk, the band brings their vibrant, dynamic music to the world at large and pushes the boundaries of what a jam band can be.
Spafford is known for their astonishing improvisational ability, which they'll use to play live off the cuff extended jams. Each song is a blank canvas, and Spafford paints a picture in real time each night with a musical palette known only to each other. It's a private language comprised of their talent as musicians, and of their formidable catalog of influences - ranging from Steely Dan, electronic acts like The Crystal Method, to 90's alt rock radio hits. Every show is a sonic pilgrimage – the journey of a team of musicians so in tune with each other that a single note communicates intent and purpose.
Even though the band thrives off the electric pulse of live shows, the same energy also translates into their studio efforts. Their 2018 release "For Amusement Only" hits to the heart of Spafford – tight, inventive, and dexterous musicianship coupled with clever retro-pop inspired songwriting. Songs like "Leave The Light On" highlight their influences – from the melodic styles of Alanis Morissette to the rhythmic bounce of Bob Marley. Other tracks like "Ain't That Wrong" and "Slip and Squander" are rich with other signature Spafford signs: vibrant vocal harmonies, complex and catchy arrangements, and sparkling, powerful performances.
Since forming, Spafford has achieved what some groups only dream of. The group is in high demand at music festivals like Bonnaroo and Firefly and consistently play sold out shows across the United States. After the successful release of "For Amusement Only" in 2018, they are eager to play new songs and evolve their sound on the road.
STIG is an all-instrumental Psychedelic NuFunk band based out of Asheville, North Carolina, consisting of 5 best friends from a myriad of places both geographically and musically, including Ryan Stigmon on saxophone, Thomson Knoles on keyboards, Artie Sadtler on bass, Jack McChesney on drums, and Riley Hoover on guitar. They are individually influenced by jazz, funk, metal, bluegrass, psychedelic rock, and beyond. A day in the STIG tour van is soundracked by an absurd potluck of 5 musical brains and their live shows artfully weave their improvisational nature with tight communication and 3 years of playing and growing together, to create a high energy, exploratory and engaging experience.
STIG's music is the culmination of a democratic and highly collaborative song-writing process – their tunes are all original and always written as a group to fuse each member's genre-crossing influences. Since forming while at Berklee College of Music in Boston, STIG has been touring the country non-stop, and developing community around their music in the Southeast region.
From opening for the likes of Aqueous, Nicki Bluhm and Dynamo to raging the late night stage at Some Kind Of Jam festival, STIG is constantly working to bring their groovy instrumental sound to as many smiling faces as they can, catering to the vibe and energy of the crowd. Be on the lookout for new music, tour dates, and updates from the band!