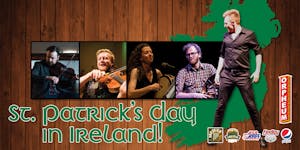 ST. PATRICK'S DAY IN IRELAND!
St. Patrick's Day in Ireland!
Featuring principal dancers Connor Reider (The Chieftains, Celtic Fyre, Celtic Wings) and Billy Kanaly (Riverdance, An Irish Christmas, St. Patrick's Day in Ireland) and multi-instrumentalists from the Kerry Traditional Band led by the great Ryan McKasson on fiddle along with Colin Cotter, guitar, vocals, Christa Burch, vocals, bodhrán and Preston Howard-Wilde on uilleann pipes and flutes. Ireland will ring through the theatre, as the Band shares its passion for the traditional music, song and dances of Ireland!
A GREAT Irish night!
Join us at 4:30pm before doors open to the public for a special guided Whisky tasting hosted by the Northern Arizona Celtic Heritage Society.
Whisky offered: Speyburn 10, Speyburn Arranta, Old Pulteney 12, anCnoc 12, anCnoc Cutter, and also Caorunn Gin.