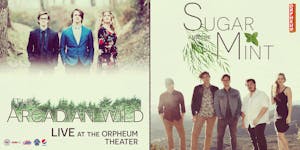 Presented by The Orpheum Theater
Sugar and The Mint
The Arcadian Wild
Sugar and the Mint and The Arcadian Wild
Sugar and the Mint has shared the bill with the Nitty Gritty Dirt Band, Emmylou Harris, Punch Brothers, Tommy Emmanuel, Jerry Douglas, I'm With Her, Steep Canyon Rangers, and the Sam Bush Band, while performing at the West's best festivals: Telluride Bluegrass Festival (2018), Ogden Music Festival (2017, 2018) Pagosa Folk and Bluegrass Festival (2018), Rapidgrass Festival (2018), Pickin' in the Pines Acoustic Music Festival (2017), and many more.
In addition to festival appearances, Sugar and the Mint draws large crowds at ticketed theater shows, with a history of Sold Out events. Performances highlight the band's own work: innovative, original songs found on Sugar and the Mint's albums, Just Past Midnight and Grape Flavored. The band's musical repertoire spans many genres. Early on, the band put its own spin on songs from blues legend Robert Johnson, the father of bluegrass Bill Monroe, folk music icons The Kingston Trio, and rock & roll's Allman Brothers. Today, unique arrangements of 20th century favorites still make it to the set list for live shows.
The Arcadian Wild began in the fall of 2013 when a few choir students from Lipscomb University in Nashville, TN met up after class to jam for the afternoon. Five years later, the band now consists of guitarist Isaac Horn, mandolinist Lincoln Mick, and fiddler Paige Park, who together explore a unique acoustic sound that is simultaneously unified and diverse. Inspired by artists who seek to blend folk and formal music, The Arcadian Wild offers up songs of invitation; calls to come and see, to find refuge and rest, or to journey and wonder.