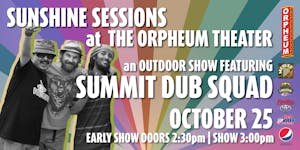 Sunshine Sessions At The Orpheum Theater Featuring Summit Dub Squad
Sunshine Sessions at The Orpheum Theater featuring Summit Dub Squad
With our COVID-safe protocols developed and in place, we are excited to announce a new series of outdoor, live events. Under the Stars at The Orpheum Theater will be held in The Orpheum Theater's private lot.
Join us for a reggae day show and good vibes with Summit Dub Squad!
Tickets are very limited to keep social distancing a priority. A ticket purchase will reserve your seats, but your personal pod placement will be first come first serve.
You will receive a follow-up email upon purchase that will breakdown the timeline for the night and COVID-safe protocols, but if you have questions, please don't hesitate to reach out to us.
The Orpheum Theater's Official Reopening Guide
AZDHS Official Reopening Attestation for Theaters
---
Summit Dub Squad recently celebrated 15 years of bringing their "High Elevation Sound Flavor" to Flagstaff and beyond. The band is excited to share new music, mixed with some older originals and timeless covers to the Orpheum's outside space, especially with the addition of the F-Town Sound Horn section!