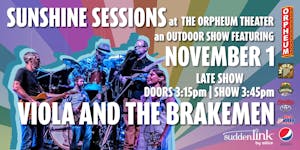 Sunshine Sessions At The Orpheum Theater Featuring Viola And The Brakemen
The Late Show
$40.00 - $80.00
Sales Ended
Sunshine Sessions at The Orpheum Theater featuring Viola & The Brakemen
With our COVID-safe protocols developed and in place, we are excited to announce a new series of outdoor, live events. Under the Stars at The Orpheum Theater will be held in The Orpheum Theater's private lot.
Join us for a day show of Americana folk music.
Tickets are very limited to keep social distancing a priority. A ticket purchase will reserve your seats, but your personal pod placement will be first come first serve.
You will receive a follow-up email upon purchase that will breakdown the timeline for the night and COVID-safe protocols, but if you have questions, please don't hesitate to reach out to us.
The Orpheum Theater's Official Reopening Guide
AZDHS Official Reopening Attestation for Theaters
---
Viola & the Brakemen is a band established in 2012 by singer\songwriter Brian White from Tucson, AZ. The band has taken many forms with 7 editions over 8 years and has had a rotation of some of the finest musicians from the Northern Arizona area. In January 2020 Matthew Tress, Matthew Robinson, Jessica Ludwig and Steve Geise came together to form the final edition of Viola & the Brakemen. What we found was through solidarity of friendship & family the band now fulfills the sounds heard in Brian's head- his writings began in 1989- this is Viola & the Brakemen. Viola & the Brakeman is: Brian White vocals, guitar, harmonica Jessica Ludwig vocals, percussion Matt Robinson dobro, banjo Matt Tress percussion Steve Geise bass.