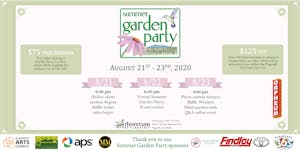 The Arboretum's Summer Garden Party Event
$75.00 - $125.00
Sales Ended
On The Arboretum
Virtual Summer Garden Party Fundraiser
Greetings Friends!
With an armful of excitement, and a perhaps a pinch of giddiness, I wish to invite you to The Arboretum's first-ever, virtual Summer Garden Party fundraiser August 21-23! Over a three-night span, The Summer Garden Party will feature all that The Arboretum does from providing environmental education opportunities to conserving some of the Southwest's rarest plant species and training local citizens in restoration practices. Your ticket price includes access to all three nights of the program and a box of botanically inspired bounty (be sure to check out the VIP package which includes home delivery within Flagstaff zip codes!).
This, our 39th season, has been a trial in trust. Trusting that we made the correct decision to only partially open for the entire season, trusting that people would still come down Woody Mountain Road to visit, and trusting that our community would continue to provide financial support in these desperate times, have proven to be worth the effort and the stress. But there is still such a long way to go and we can't get there without your help and generosity. Please consider purchasing tickets to this new and anticipated event in support of The Arboretum and help us succeed in greeting our 40th anniversary in 2021.
With appreciation and gratitude,
Kristin E. Haskins, Executive Director
Tickets are $75 and include a small box of treats that you can pick up at The Arb on Friday, August 21st.
VIP tickets are $125 and your box will include a little something extra special and will be delivered to your home in the Flagstaff city limits.
We look forward to "seeing" you at our first ever virtual fundraiser!