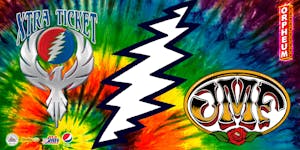 Presented by The Orpheum Theater
Jerry's Middle Finger
Xtra Ticket
$13.00 - $15.00
Sales Ended
A Tribute to the Grateful Dead: Xtra Ticket and Jerry's Middle Finger
Xtra Ticket, Arizona's longest running Grateful Dead tribute, was formed in the summer of 1994 and fronted by Evan Jones and Dave Hebert of JGB. Since then, Xtra Ticket has continued to celebrate the music of San Francisco's legendary Grateful Dead, delighting audiences throughout the West. Ticket successfully uses the same sonic template as the Dead, complete with two drummers, keyboards, bass, and two guitarists specific to the Bob Weir and Jerry Garcia roles and interplay which proves an effective way to help recreate the magic of a live Grateful Dead performance.
In 2011, Hebert was tapped by Jerry Garcia's longtime keyboardist Melvin Seals to be lead guitarist and vocalist of the Jerry Garcia Band (JGB Band). This musical outlet served to energize and stimulate an ongoing creativity that goes to the heart of the Grateful Dead catalog. It is our belief that we share a kindred spirit with other Grateful Dead tributes and Dead Heads the world over. We are indebted to band itself for creating this body of music and jamming style that celebrates life in all its beauty. Celebrating their 25th anniversary in 2019, Xtra Ticket looks forward to truckin' into the 21st century.
Jerry's Middle Finger (JMF), a Los Angeles based band, is the west's best JGB tribute experience, performing and celebrating the music of The Jerry Garcia Band (JGB) with unbridled energy and passion.
With some of the strongest and most seasoned players and vocalists in California's jam band community on their roster, they have been playing consistently to large audiences all over the west coast, packing venues and getting rave reviews.
Lead vocalist and guitarist Garrett Deloian has toured the world on the blues circuit, but in JMF he is allowed to truly shine and explore his passion and lifelong love for the work of Jerry Garcia. His guitar tone has been hailed by many of his musical peers, along with Jerry fans around the country, as one of the best "Jerry tones" out there. The energy Garrett brings to the stage is truly unique in the post-Jerry scene.
JMF's rhythm section, with original JMF drummer/founder Rodney Newman and bassist Burt Lewis (of Stu Allen & Mars Hotel), consistently locks in on the dynamic explorative grooves, dipping and elevating the music delivering magic at every turn. The foundation they set for the songs, tapping into their mastery of Jerry's songbook, pulls audiences onto their feet, energizing them to get up and move.
JMF has two outstanding powerhouse vocalists- Halina Janusz (of Mother Jones and Sugar Mountain) and Lisa Malsberger (of Grampa's Grass and The Rumrunners). Their smooth, rich vocal tones and soaring, stellar harmonies place JMF in a category all their own.
Jon Gold (Cryptical Development, Remnants of Eden, Oingo Boingo) rounds things out with some of the sweetest, funkiest, piano and "take me ta church!" organ solos you'll ever hear.
Together, this JMF line-up has been thrilling audiences all over the west coast with their authentic and passionate tribute to the fantastic music of the Jerry Garcia Band, keeping alive a concert experience that fans hope will last forever.