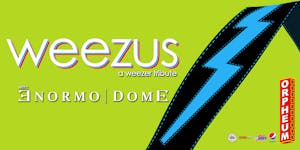 The Orpheum Presents Weezus with Enormodome
Weezus is the nation's premier tribute to Weezer. Playing hits from the 90's through today. Come experience a dynamic and exciting live show featuring all the hits from the 90's till today.
~~~
ENORMODOME is a 2-piece Alternative band from Flagstaff, Arizona including Jeff Lusby-Breault on the guitar and Marshall stacks and Mike Seitz on the huge drum set. Both band members sing lead & harmony over dirty, riff-based rock songs. The sound of ENORMODOME can be likened to a meeting between The Black Keys, Middle Class Rut, Audioslave, Jack White & Queens of the Stoneage.